Why Choose
Jenkins Preschool Academy?
Because the expectations in today's kindergarten classrooms are drastically different from when you were in kindergarten, the skills your child needs before entering school are also very different.
JPA has the experienced staff, curriculum model, and unique learning environment that will promote your child's personal and academic success in kindergarten and beyond.
Jenkins Preschool Academy…
utilizes the most recent educational methods to assess and monitor skills taught.
communicates and collaborates frequently with parents regarding daily activities and skill growth.
ensures children gain the knowledge and skills needed to master goals of NC Standard Course of Study for kindergarten and beyond.
teaches with curriculum linked to NC state preschool standards.
has certified teachers, with low student-to-teacher ratios.
facilitates cognitive, social, emotional, and physical growth through developmentally appropriate teaching.
creates a love of learning and confidence in each child.
Call us at

(910) 367-0287


to schedule a visit!
Half Day Programs 9 to Noon
Choice of 2 or 3 Day Classes for 2 and 3 Year Olds
5 Day Program for 4 Year Olds and Pre-K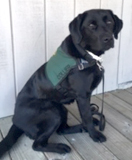 Collier
Meet COLLIER. She is a fully trained, insured, and certified Facility Dog from paws4people, a nonprofit organization dedicated to educating and empowering people to utilize Assistance Dogs to transform their lives. She has been custom trained to work with Ms. Alethea in the classrooms of Jenkins Preschool Academy every day. She encourages and supports multiple developmental skills that we teach at the preschool by being involved in many hands-on learning activities. COLLIER also provides many opportunities for social/emotional skill development as the children learn to care for her and learn about the role of Assistance and Facility Dogs in our community.
Please take a moment to support paws4people at COLLIER and Alethea's donation page! Any amount is greatly appreciated and will help change the lives of so many!
You can also keep up with COLLIER on her Instagram page @preschoolpup_jpa!