JPA Staff
JPA staff are friendly, nurturing and fun! Everyone is CPR & first aid certified and have cleared background checks. All teachers are experienced, state-certified teachers who have received training in Response to Instruction/Intervention by Dr. Tom Jenkins, Director of Educational Consultation Services, LLC, a well-known expert on the model of Response to Intervention and the Problem Solving Model used in schools across the state.
Alethea Jenkins
Helping children learn about their world and themselves is the most amazing and rewarding thing. I enjoy working with parents to positively influence a child's sense of self worth and accomplishment.
Alethea is married with two teenage children. She is a graduate of James Madison University with a BA in Psychology; Graduate of UNC Charlotte with a Master's Degree in Counselor Education. Alethea is certified K-12 in school counseling and holds certification as a National Board Certified Counselor with a specialty in school counseling.
Alethea worked 3 years as a Mental Health Counselor in a school-based program, 7 years as an elementary school counselor, and 4 years as lead preschool teacher before opening Jenkins Preschool Academy in 2008.
Vicki France
Vicki is a retired preschool Special Education teacher. She relocated from New Jersey to Wilmington in 2017 and spent a year subbing at JPA and volunteering in a 1st grade class at Ogden Elementary where her son Matt teaches (Matt worked at JPA from 2009-2012). Vicki enjoys any outside activities such as running, walking, hiking, and going to the beach. She is an avid reader and volunteer for the Big Buddy Program and Lumps to Laughter. She loves spending family time with her son and daughter-in-law and grand-dog. Ms. Vicki is very excited to be teaching again and looks forward to teaching the 2's at JPA.
Karin Youngquist
Karin teaches the three year old classes at JPA. She grew up in Sweden, and moved to the U.S. to attend and graduate from Elmhurst College, IL. She stayed in the U.S. and is married with three children and her two youngest both attended JPA for preschool. Karin's oldest child is on the autism spectrum and all three children have given her a unique insight to child development, typical and atypical alike. Karin believes that watching children explore and interact with the world is an amazing privilege, and that the opportunity to help them discover new ways of learning through play is an incredibly rewarding job.
Sarah Steele
Sarah is the teacher in the 4/5 year class. She is married with one son. Sarah graduated from East Carolina University with a BS in Child Life. She has worked with preschool children in private and public childcare settings for fifteen years. Sarah enjoys horseback riding, gardening, and going to the beach with her family. Her energy and creativity are a great asset to JPA.
Adair Flynn
Adair Flynn is the assistant on MWF for the 2-year-olds. She graduated from Spartanburg College and is married with 3 children. Adair has been very active in her children's classrooms and worked with 2 year olds at St. Andrews Covenant Presbyterian Church prior to coming to JPA in the fall of 2011. Adair brings lots of laughter to JPA with her silly songs and easy going nature in the classroom.
Debra Goodenbour
Debbie has worked in the Early Childhood Education profession for over 25 years. Debbie's husband was in the US Navy which allowed her to work in a variety of environments where she adapted and respected families' beliefs, cultures, and backgrounds. Teaching and watching children learn/grow is her passion, and she believes that learning is a life-long process. Debbie lives close to the beach and spends her off time there whenever she can. She also loves spending time with friends and family. Ms. Debbie assists in the 3's and toddler classes at JPA.
Katie Barbour
Katie Barbour (Ms. Katie) is the assistant in the 4/5 year old class. She graduated from Cape Fear Community College with an Associates degree in Business Administration with additional courses in Early Childhood Education. She has 7 years of experience working with children ages 6 weeks to 12 years old in licensed childcare centers as a teacher and an Assistant Director. Katie is married with two children, both of whom attended JPA for preschool. She loves to stay active with running, biking, and enjoys time spent with her family. She is excited by all the adventures in the Pre-K class!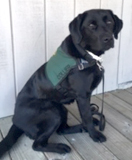 Collier
Meet COLLIER. She is a fully trained, insured, and certified Facility Dog from paws4people, a nonprofit organization dedicated to educating and empowering people to utilize Assistance Dogs to transform their lives. She has been custom trained to work with Ms. Alethea in the classrooms of Jenkins Preschool Academy every day. She encourages and supports multiple developmental skills that we teach at the preschool by being involved in many hands-on learning activities. COLLIER also provides many opportunities for social/emotional skill development as the children learn to care for her and learn about the role of Assistance and Facility Dogs in our community.
Please take a moment to support paws4people at Collier's donation page! Any amount is greatly appreciated and will help change the lives of so many!
You can also keep up with Collier on her Instagram page preschoolpup_jpa!